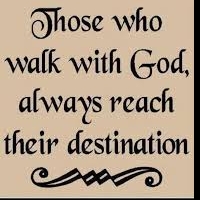 September Bible Scriptures
By Min. Marilyn Smith | September 4, 2013
Sunday Sep. 8, 2013 Psalm 56:1-3
1 Be merciful unto me, O God: for man would swallow me up; he fighting daily oppresseth me.
2 Mine enemies would daily swallow me up: for they be many that fight against me, O thou most
High.
3 What time I am afraid, I will trust in thee.
John 17:6-13
6
I have manifested thy name unto the men which thou gavest me out of the world: thine they were,
and thou
gavest
them me; and they have kept thy word.
7 Now they have known that all things whatsoever thou hast given me are of thee.
8 For I have given unto them the words which thou gavest me; and they have received them, and
have known surely that I came out from thee, and they have believed that thou
didst
send me.
9 I pray for them: I pray not for the world, but for them which thou hast given me; for they are thine.
10 And all mine are thine, and thine are mine; and I am glorified in them.
11 And now I am no more in the world, but these are in the world, and I come to thee. Holy Father,
keep through
thine
own name those whom thou hast given me, that they may be one, as we are.
12 While I was with them in the world, I kept them in thy name: those that thou gavest me I have
kept, and none of them is lost, but the son of perdition; that the scripture might be fulfilled.
13 And now come I to thee; and these things I speak in the world, that they might have my joy
fulfilled in themselves.
Sunday Sep 15, 2013
Psalm 57:1-3
1
Be merciful unto me, O God, be merciful unto me: for my soul trusteth in thee: yea, in the shadow of thy wings will I make my refuge, until these calamities be overpast.
2
I will cry unto God most high; unto God that performeth all things for me.
3
He shall send from heaven, and save me from the reproach of him that would swallow me up. Selah.
God shall send forth his mercy and his truth.
I
Thessalonians
3:11-13
11 Now God himself and our Father, and our Lord Jesus Christ, direct our way unto you.
12 And the Lord make you to increase and abound in love one toward another, and toward all men,
even as we do toward you:
13 To the end he may
stablish
your hearts
unblameable in holiness before God, even our
Father, at the coming of our Lord Jesus Christ with all his saints.​
Sunday Sep. 22, 2013
Psalm 57:7-9
7 My heart is fixed, O God, my heart is fixed: I will sing and give praise.
8 Awake up, my glory; awake, psaltery and harp: I myself will awake early.
9 I will praise thee, O Lord, among the people: I will sing unto thee among the nations.​
Ezra 3:8-13
8 Now in the second year of their coming unto the house of God at Jerusalem, in the second month,
began Zerubbabel the son of Shealtiel, and Jeshua the son of Jozadak, and the remnant of their brethren the priests and the Levites, and all they that were come out of the captivity unto Jerusalem; and appointed the Levites, from twenty years old and upward, to set forward the work of the house of the Lord.
9 Then stood Jeshua with his sons and his brethren, Kadmiel and his sons, the sons of Judah, together, to set forward the workmen in the house of God: the sons of Henadad, with their sons and their brethren the Levites.
10 And when the builders laid the foundation of the temple of the Lord, they set the priests in their apparel with trumpets, and the Levites the sons of Asaph with cymbals, to praise the Lord, after the ordinance of David king of Israel.
11 And they sang together by course in praising and giving thanks unto the Lord; because he is good, for his mercy endureth for ever toward Israel. And all the people shouted with a great shout, when they praised the Lord, because the foundation of the house of the Lord was laid.
12 But many of the priests and Levites and chief of the fathers, who were ancient men, that had seen the first house, when the foundation of this house was laid before their eyes, wept with a loud voice; and many shouted aloud for joy:
13 So that the people could not discern the noise of the shout of joy from the noise of the weeping of the people: for the people shouted with a loud shout, and the noise was heard afar off.
Psalm 63:5-7
5 My soul shall be satisfied as with marrow and fatness; and my mouth shall praise thee with joyful
lips
6 When I remember thee upon my bed, and meditate on thee in the night watches.
7 Because thou hast been my help, therefore in the shadow of thy wings will I rejoice.​
Isaiah 51:1-8
1 Hearken to me, ye that follow after righteousness, ye that seek the Lord: look unto the rock whence ye are hewn, and to the hole of the pit whence ye are digged.
2 Look unto Abraham your father, and unto Sarah that bare you: for I called him alone, and blessed him, and increased him.
3For the Lord shall comfort Zion: he will comfort all her waste places; and he will make her wilderness like Eden, and her desert like the garden of the Lord; joy and gladness shall be found therein, thanksgiving, and the voice of melody.
4 Hearken unto me, my people; and give ear unto me, O my nation: for a law shall proceed from me, and I will make my judgment to rest for a light of the people.
5 My righteousness is near; my salvation is gone forth, and mine arms shall judge the people; the isles shall wait upon me, and on mine arm shall they trust.
6 Lift up your eyes to the heavens, and look upon the earth beneath: for the heavens shall vanish away like smoke, and the earth shall wax old like a garment, and they that dwell therein shall die in like manner: but my salvation shall be for ever, and my righteousness shall not be abolished.
7 Hearken unto me, ye that know righteousness, the people in whose heart is my law; fear ye not the reproach of men, neither be ye afraid of their revilings.
8 For the moth shall eat them up like a garment, and the worm shall eat them like wool: but my righteousness shall be for ever, and my salvation from generation to generation.​
---
Back