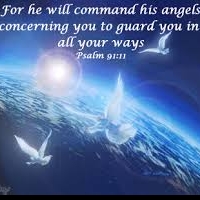 November Scriptures
By FEBC staff | November 7, 2013
2nd Sunday November 10, 2013
Call to Worship: Psalm:91:10-12
10
There
shall no evil befall thee, neither shall any plague come nigh thy dwelling.
11
For he shall give his angels charge over thee, to keep thee in all thy ways.
12
They
shall bear thee up in their hands, lest thou dash thy foot against a stone.
Devotional Reading: Job 5:8-16
8
I
would seek unto God, and unto God would I commit my cause:
9
Which
doeth great things and unsearchable; marvellous things without number:
10
Who
giveth rain upon the earth, and sendeth waters upon the fields:
11
To
set up on high those that be low; that those which mourn may be exalted to safety.
12
He
disappointeth the devices of the crafty, so that their hands cannot perform their enterprise.
13
He
taketh the wise in their own craftiness: and the counsel of the froward is carried headlong.
14
They
meet with darkness in the daytime, and grope in the noonday as in the night.
15
But
he saveth the poor from the sword, from their mouth, and from the hand of the mighty.
16
So
the poor hath hope, and iniquity stoppeth her mouth.
3rd Sunday November 17, 2013
Call to worship: Psalm, 145:19-21
19
He
will fulfil the desire of them that fear him: he also will hear their cry, and will save them.
20
The
Lord
preserveth all them that love him: but all the wicked will he destroy.
21
My
mouth shall speak the praise of the
Lord
: and let all flesh bless his holy name for ever and ever.
Devotional Reading: Ecclesiastes 8:1-5
1
Who is as the wise man? and who knoweth the interpretation of a thing? a man's wisdom maketh his face to shine, and the boldness of his face shall be changed.
2
I
counsel thee to keep the king's commandment, and that in regard of the oath of God.
3
Be
not hasty to go out of his sight: stand not in an evil thing; for he doeth whatsoever pleaseth him.
4
Where
the word of a king is, there is power: and who may say unto him, What doest thou?
5
Whoso
keepeth the commandment shall feel no evil thing: and a wise man's heart discerneth both time and judgment.
4th Sunday November 24, 2013
Call to worship: Psalms 149: 3-5
3
Let
them praise his name in the dance: let them sing praises unto him with the timbrel and harp.
4
For
the
Lord
taketh pleasure in his people: he will beautify the meek with salvation.
5
Let
the saints be joyful in glory: let them sing aloud upon their beds.
Devotional Reading: 1 Samuel 26:
21-25
21
Then
said Saul, I have sinned: return, my son David: for I will no more do thee harm, because my soul was precious in thine eyes this day: behold, I have played the fool, and have erred exceedingly.
22
And David answered and said, Behold the king's spear! and let one of the young men come over and fetch it.
23
The
Lord
render to every man his righteousness and his faithfulness: for the
Lord
delivered thee into my hand to day, but I would not stretch forth mine hand against
the
Lord's
anointed.
24
And
, behold, as thy life was much set by this day in mine eyes, so let my life be much set by in the eyes of the
Lord
, and let him deliver me out of all tribulation.
25
Then
Saul said to David, Blessed be thou, my son David: thou shalt both do great things, and also shalt still prevail. So David went on his way, and Saul returned to his place.
Back